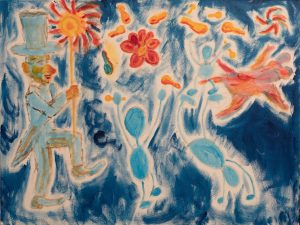 (Click to enlarge. There may be some lag.)
After my friend the Groupon tourist got over the purloining of her memories, she told me more. I thought her Martian getaway would be as interesting as a Podunk, Iowa timeshare. Not!
(CNN) Aliens, flying discs and sightings — oh my! A short history of UFOs in America just scratches the surface. It's the difference between Chinatown and China. You just have to go there.
The romance of Mars gives up nothing to Mar-a-Lago. Four moonrises a night  evoke that many more romantic sighs. Martian hospitality, since they changed their diets, is unrivaled.
Pictured is the Night Jugglers act of the Imperial Martian Three Orbit Circus. Evanescent, brilliantly glowing, they perform their low-gravity acrobatics only at night, turning at daybreak into little mounds of red dust. You've already seen their mascot on the pink hoverboard, but did you know Rover can fly? The "gentleman" on the left is a Martian who spends hours in makeup to look like — one of us.
It's included in the Groupon package. Bring a warm blanket, an atomic foot warmer, and your breathers. Oxygen is gratis throughout the event.
So next time you pass an old man on the street, pay him a little respect.
(18×24″, oil on canvas.)