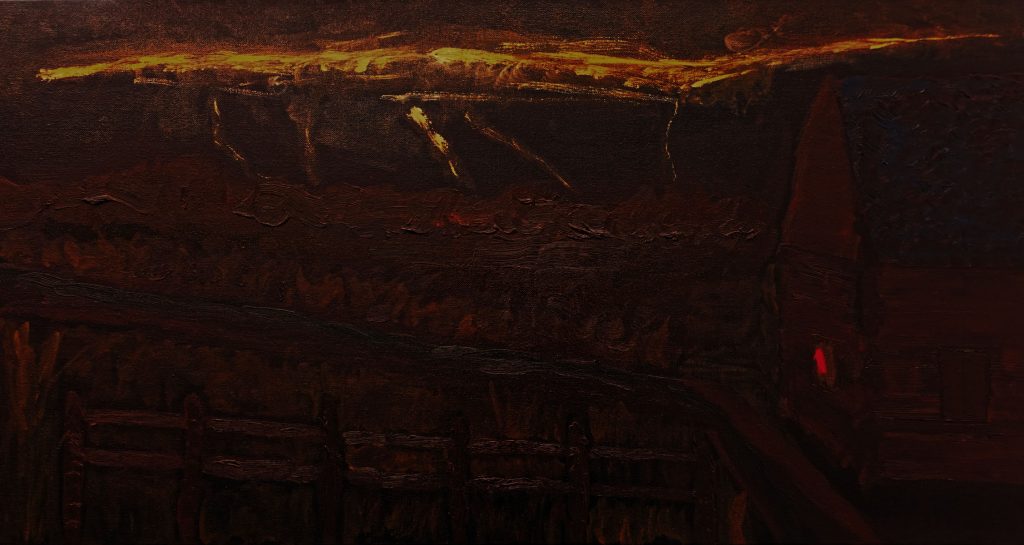 (click to enlarge)
I'm too much of a realist to revel in a single day, and wish you a happy new year. From (Shakespeare) Richard III,
Now is the winter of our discontent
Made glorious summer by this sun of York;
And all the clouds that lour'd upon our house
In the deep bosom of the ocean buried.
Now are our brows bound with victorious wreaths;
Our bruised arms hung up for monuments;
Our stern alarums changed to merry meetings,
Our dreadful marches to delightful measures.
…
I am determined to prove a villain
And hate the idle pleasures of these days.
Plots have I laid, inductions dangerous,
By drunken prophecies, libels and dreams,
To set my brother Clarence and the king
In deadly hate the one against the other:
…
The oil-on-canvas painting is inspired by a  shack in southern New Mexico, where I saw orange desert lighting, bolts spanning the entire sky.  It was made in an unusual way.  Mars Black mixed with heavy medium was applied in heavy impasto. The line drawing was inscribed with a stick. It was set aside to dry for a month.  All of the colors and shades are the result of thin glazes. Lit straight on, the canvas appears inscrutably dark. The photo was taken with side lighting.
Look!  In the window of the shack! Is that glow the lamp of a solitary dweller, a beacon of hope, or just the reflection of lightning?
Your choice, the freedom of imagination.